Architect Manuel Morales shows his flair in Amapas 353
By DevSupport on May 24, 2012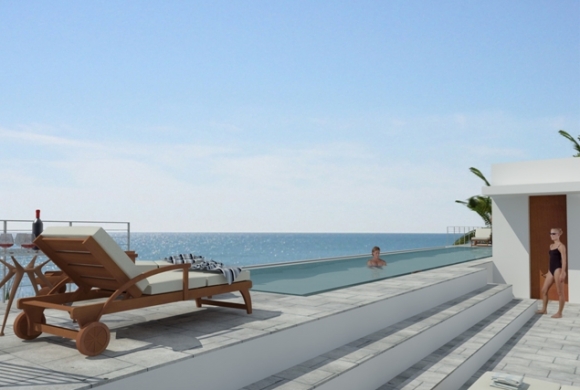 New, sleek finishes
near the beach in Old Town Puerto
Vallarta? Usually an oxymoron but not anymore…
Just steps from Los Muertos Beach and the Blue Chairs
Resort, this architectural newcomer Amapas
353 is steadily making its mark on the landscape.
The structure of six
levels of condos for sale and the rooftop pool area is
almost complete and work has begun in earnest on the interiors. The model is
set to be ready for display in June 2012.
Architect Morales'
focus is to keep the ocean views as wide as possible. His ingenious use of
space in a very difficult shaped piece of land has been really apparent in the
floor plans. The 21 units are all positioned to give views of the ocean and
each one has a storage space (also a rare commodity in old town). The building
has elevator access to all levels and 2 pedestrian entrances from Amapas Street on the beach side to the
main road to Mismaloya.
Being surrounded by
older buildings, some dating back 30 years that have difficult access and many
stairs, this project is a welcome addition to the neighborhood long tainted by
cobbles, steps and more steps!
Finally people with
limited mobility will be able to live or rent in this sought after location and
can breathe a sigh of relief!
Want to find out more? Click here.
Subscribe to our newsletter and keep up-to-date with our latest properties and track the market trends.