Sayan not longer a dream, it's a Reality
By DevSupport on January 7, 2013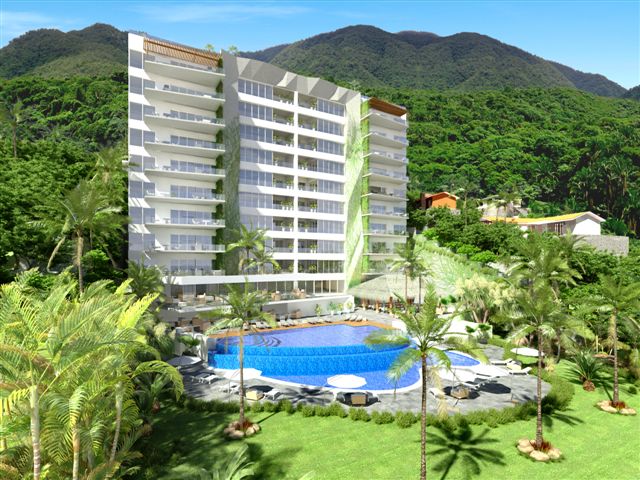 The long
anticipated beachfront condos project
in lower Conchas Chinas is nearing
the finishing stages.
Sayan's concept
was inspired by its young Developer Gaston
Gutierrez from Guadalajara following a visit to the tropical jungle of
Bali. The theme is of wide open spaces, lush green landscaping, infinity pools
(3 infact that slope down to meet each other) and maintaining a strong sense of
the natural beauty of our bay. Sales have been fast and furious over recent
months with only 4 units available at last count out of 40.
I would think the
main attraction for buyers is its quiet location on the waterfront and its easy
access to old town Vallarta by
walking along quaint Santa Barbara street. Another bonus must be the neighbours
as the street is lined with large, well maintained charming villas and private
homes.
Sayan unites the old and the new to the area offers great facilities to
owners and guests. A bar, restaurant, lobby, tennis court, 3 pools and an
amazing covered parking garage with no pillars to negotiate inside (rarely seen
here). The price points are not outrageous either, with the most affordable 2
bed plus den, 2 bath unit (2000 sq ft) still at $398,000 USD. The ample
terraces and the sliding pocket doors really help to maximise the sensation of the
outdoor-indoor living that Vallarta is famous for.
If you have not
yet seen Sayan, be sure to check out this new addition to the Conchas Chinas
elite club.
Subscribe to our newsletter and keep up-to-date with our latest properties and track the market trends.