Honeydew and Mezcal Margarita with Chipotle Syrup
By DevSupport on September 1, 2013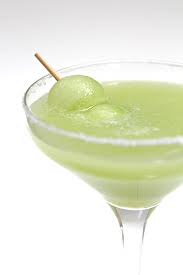 Like its famous cousin Tequila
which is produced in the state of Jalisco,
home of Puerto Vallarta, Mezcal is also made from the agave
plant and has been produced in Mexico since
the time of the Spanish Conquest. It has
a smoky flavor that results from a three day "baking" process in clay ovens
prior to being fermented in wood barrels.
The fermenting mash is often spiced with cinnamon, pineapples, red
bananas and sugar which gives Mezcal a
rich, deep taste that pairs well with fruity and spicy flavors like this
Honeydew and Mezcal Margarita with Chipotle Syrup.
Honeydew and Mezcal
Margarita with Chipotle Syrup
Serves 2
Prep time: 30 min
For the syrup
1 dried chipotle pepper – cut in 1/2″ pieces
1/2 cup boiling spring water
1/2 cup organic sugar
For the honeydew juice
1/2 large honeydew melon (3 lbs) (1.4 kg) – peeled and flesh
cut in 3″ chunks
1 tablespoon lime juice
For the cocktails
1 tablespoon fine sea salt for the rims
lime wedge
4 1/2 oz (135 ml) Mezcal
4 1/2 oz (135 ml) honeydew juice
1 1/2 oz (45 ml) lime juice
3/4 oz (20 ml) St. Germain Elderflower liqueur
1/4 oz (7.5 ml) chipotle syrup
6 small honeydew melon balls as garnish
Step 1: To make the syrup – Place the chipotle in a small
bowl and pour the boiling water over it. Let stand for 10 minutes. Place the
pepper and the soaking liquids in a small pan. Add the sugar and bring to a
boil. Reduce heat to medium and simmer for 2 minutes until the sugar has
dissolved. Remove from heat and let stand for 30 minutes. Strain syrup into a
clean jar and refrigerate until ready to use. You'll only need a small amount
of the syrup for the margaritas, but the leftover syrup can be refrigerated for
up to 1 month.
Step 2: To make the honeydew juice – Place the honeydew
chunks and the lime juice in a food processor and pulse until coarsely chopped.
Scrape the sides of the bowl and process until very liquidy, about 1 to 2
minutes. Strain through a fine sieve. Discard leftover pulp and transfer juice
into a large squeeze bottle. You should have 2 1/4 cups of honeydew juice, enough
to make 8 margaritas. Refrigerate until ready to use.
Step 3: For the cocktails – Place the salt on a small plate
and spread. Moisten the rim of the glasses with the lime wedge and dip the rims
in the salt. Set aside. Shake the Mezcal, honeydew juice, lime juice,
elderflower liqueur, and chipotle syrup with ice cubes until a thin layer of
frost appears on the outside of the shaker. Pour into the prepared glasses.
Garnish each glass with 3 melon balls threaded onto a cocktail pick and serve
immediately.
For more Sarah Elengorn blogs, click here.
Subscribe to our newsletter and keep up-to-date with our latest properties and track the market trends.