Dia de los Muertos
By DevSupport on November 1, 2013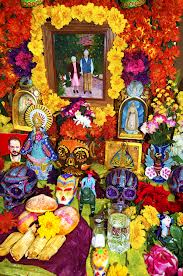 The first and second of November mark Dia de los Muertos, or
The Day of the Dead, in Mexico and all around the Banderas Bay area, visitors
and residents will witness the manifestations of one of the most culturally
significant celebrations of the year in this country.
Mexicans generally believe that the spirits of their loved
ones surround them and that they can reach out to those who have passed on to
the next world to make their journey more comfortable. During Dia de los Muertos, Mexican families
will erect altars dedicated to the spirits of those past, which will be
decorated with photographs, flowers, and special food and drinks like Pan de Muertos,
a sweet round bread, and atole, a corn based drink.
Visits will also be made to grave sites which will be
similarly decorated. Families may bring
pillows and blankets to make the afterlife more comfortable for their loved
ones. The artistic may write poems or songs
dedicated to the departed.
The dead are in many ways intertwined with the living in
Mexico, and artistic images of Calaveras (skeletons) and Catrinas (caricatures
of high class women as skeletons) are iconic in Mexican culture. In fact, candy and chocolate skulls are one
of the common treats associated with Dia de los Muertos.
Participate in Dia de los Muertos by admiring alters created
by Mexicans to honor their friends and family that are no longer with them.
Click here to learn more about Mexican traditions in the
Sarah Elengorn blog.
Subscribe to our newsletter and keep up-to-date with our latest properties and track the market trends.