Landscaping Your New Home
By DevSupport on May 4, 2014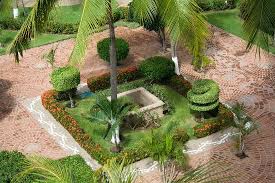 Creating beautiful exterior spaces for your new Banderas Bay home can make a huge difference to the value and your enjoyment of your property. With some preparation, you can easily tackle landscaping projects on your own.
First learn about the various plants and items that go into a good landscape design. To start landscaping you need to know what type of items you want in your yard. Look in some landscaping or home and garden magazines for ideas. You can also watch gardening television shows and search the internet to learn about what you want to include in your landscape design. . Some plants need shade, while other plants need sun, so learn about the different plants, shrubs and trees that will work in your outdoor space.
Next learn how to design the landscaping for your yard. Do you want a gazebo, deck, or water feature included n your landscape design? You are the architect of your yard, so you will need to draw out plans for where you want to put all of the items in your landscape.
Once you have your landscape blueprints ready, you know exactly what you need to purchase. And remember, if you don't want to tackle the hard work on your own, professional gardeners are much more affordable in Mexico than in other countries. Many expats with homes around Puerto Vallarta employ regular gardeners to tend to their landscaping, helping to support the local economy.
Click here to read more from Sarah Elengorn Real Estate.
Subscribe to our newsletter and keep up-to-date with our latest properties and track the market trends.