Mexican Revolution Day
By DevSupport on November 10, 2014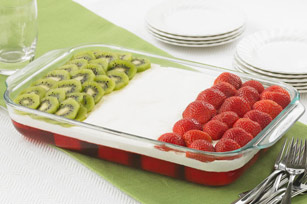 November 20th marks Día de la Revolución, a public holiday celebrating the beginning of a revolutionary war which began in 1910 to overthrow the dictator Porfirio Díaz. With many Puerto Vallarta restaurants and shops closed to honor the holiday, and busy long-weekend crowds coming in from other parts of Mexico to enjoy our sunny beaches, why not make your own Revolution Day celebration at home with this Mexican Flag cake?
Ingredients
1-1/2 cups boiling water
2 pkg. (3 oz. each) JELL-O Strawberry Flavor Gelatin
Ice cubes
1 cup cold water
1 pkg. (10.75 oz.) prepared pound cake, cut into 10 slices
2 pkg. (8 oz. each) cream cheese, softened
1/4 cup sugar
1 package whipped topping, thawed
4 kiwi, peeled, sliced
10 fresh strawberries, cut in half
To Assemble
ADD boiling water to gelatin mixes; stir 2 min. until completely dissolved. Add enough ice to cold water to make 2 cups. Add to gelatin; stir until melted. Refrigerate 5 min. or until gelatin is slightly thickened.
COVER bottom of 13×9-inch dish with cake; cover with gelatin. Refrigerate 4 hours or until set.
BEAT cream cheese and sugar in large bowl with whisk or mixer until blended; stir in whipped topping. Spread over gelatin. Arrange fruit on cream cheese mixture to resemble the Mexican flag.
Click here for more from Sarah Elengorn.
Subscribe to our newsletter and keep up-to-date with our latest properties and track the market trends.