Talking Tamales
By DevSupport on December 6, 2014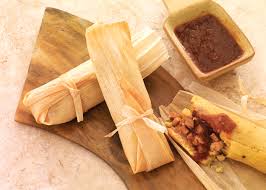 Tamales are a traditional Christmas season treat that go back as far as Mexican culture itself. They date back to the Aztecs and Mayans who served them as early as 8000 to 5000 BC. But what do you really know about them?
Tamales are made with masa, a starchy corn-based dough, which is steamed or boiled in a corn husk wrapper, which is discarded before eating. They can be made of plain masa or masa with cheese, vegetables, pork or chicken, in either red or green salsa or mole sauce. Or sweet tamales are sometimes served, stuffed with raisins or other dried fruit. Less commonly, you may even occasionally come across exotic tamales, stuffed in the tradition of the Aztecs and Mayans with fillings like turkey, frog, gopher, or rabbit in high end restaurants that recreate pre-Hispanic cuisine and flavors.
Although they are not difficult to make, Mexicans will usually buy tamales from vendors who will make batches of hundreds of tamales at a time. You will find vendors selling tamales on the Malecon or other well-trafficked areas or in little shops around Puerto Vallarta and they are a taste of Mexico you will certainly want to try.
Click here for more from Sarah Elengorn Real Estate.
Subscribe to our newsletter and keep up-to-date with our latest properties and track the market trends.