Zenith: Taking Condo Living to New Heights
By DevSupport on May 15, 2015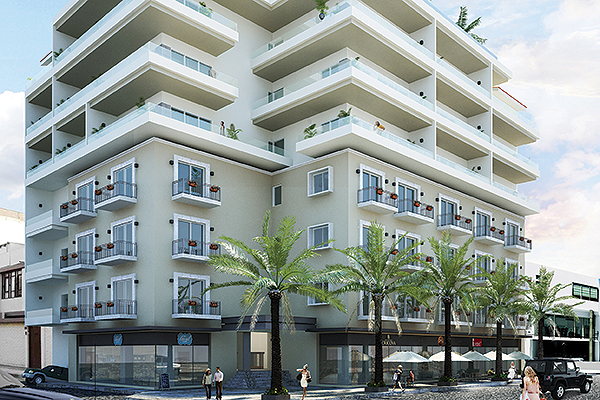 Zenith: Take your Lifestyle to new Heights in Vallarta's trendy Romantic Zone
Located on the corner of V. Carranza and Constitucion where the once famous Club Manana used to be, Zenith Condominios is a new development of a total of 44 units. There are options to suit all budgets and desires. Our small 1 bed 1 bath options are now all sold out but the 1 bed 2 bath options at 850 sq ft start at just $157,250 USD. The ground level is commerical space, lobby and a fabulous entrance hall. Its location has everything at its fingertips and just a short flat walk away. Underground parking with remote control access is offered and one space is included for all the 2 bedroom units and available to purchase for buyers who need to use a car. Prices for parking start at $12,000 USD.
The Development team is the highly acclaimed CRAGSA group who have been working in the bay since the mid 80s, with their most recent portfolio of developments on the beachfront in Bucerias, Nayarit, Azul, Playa Seis, Punta Arena and Diagonal to name just a few. The complex is designed by leading PV architect Paulo Rojo who recently completed V399, V177 and VConchas Chinas.
Delivery of the complex is scheduled for December 2015 and construction on the site has already begun. Zenith is certain to be one of the fastest selling developments seen in Puerto Vallarta for a long time. Don't miss your opportunity to take advantage of pre-construction prices offered now for a limited time. Contact us for more details.
Click here for more from Elengorn Realtors.
Subscribe to our newsletter and keep up-to-date with our latest properties and track the market trends.