A Thanksgiving Turkey for Puerto Vallarta
By DevSupport on November 22, 2015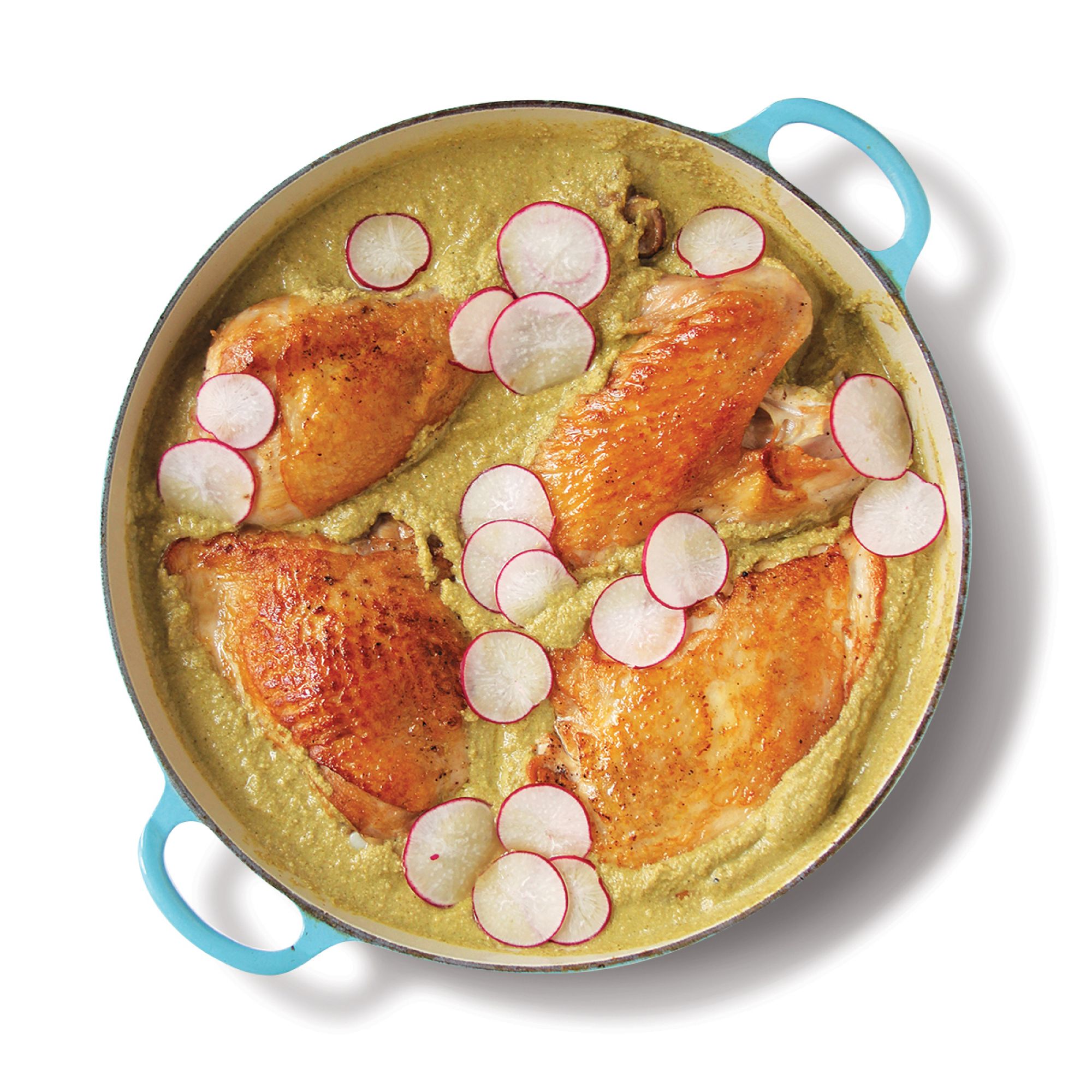 One of the best parts of living in Puerto Vallarta is getting to celebrate both the holidays from home and adopting Mexican holiday traditions as well. That's why we are going to try this turkey recipe this year instead of the standard roasted Thanksgiving turkey. This Braised Turkey in Green Mole sauce by Chef Mary Sue Milliken, not only serves 8 to 10 people, but it cooks in two hours or less without heating up your Puerto Vallarta condo or home all day. Here's the recipe:
3⁄4 cup raw shelled pumpkin seeds
1 1⁄2 tsp. cumin seeds
1 tsp. whole black peppercorns
3⁄4 tsp. dried Mexican oregano
6 cups roughly chopped cilantro leaves and stems
15 tomatillos, husked, washed, and roughly chopped
4 cloves garlic, roughly chopped
4 romaine lettuce leaves, roughly chopped
3 medium radishes, trimmed and tops reserved, radishes thinly sliced, for garnish
2 small serrano peppers stemmed and roughly chopped
1 large onion, roughly chopped
Kosher salt and freshly ground black pepper, to taste
1⁄2 cup olive oil
3 cups chicken stock
1 (10-12–lb.) turkey, cut into 8 pieces
Heat pumpkin seeds, cumin seeds, and peppercorns in a 12" cast-iron skillet over medium-high heat until seeds begin to pop, 1–2 minutes; let cool slightly. Place in a spice grinder and pulse until finely ground; add oregano and set seed mixture aside. Place cilantro, tomatillos, garlic, romaine, reserved radish tops, serrano peppers, onion, and salt in a food processor. Purée into a smooth paste; set aside.
Heat half the oil in a 12-qt. saucepan over high heat. Carefully pour in paste and cook, stirring, until fragrant, about 1 minute. Whisk in stock and bring to a boil. Whisk in seed mixture and remove from heat; let cool slightly. Working in batches, transfer mole mixture to a blender and purée until smooth. Pass through a fine-mesh strainer into a bowl, pressing on and discarding solids; set aside.
Heat oven to 350°. Season turkey pieces with salt and pepper. Wipe outsaucepan and heat remaining oil over medium-high heat. Working in batches, brown turkey on all sides, 20–25 minutes. Using tongs, transfer turkey to a plate and set aside. Return mole to saucepan and bring to a simmer. Add turkey pieces, skin side up, and partially cover with lid. Transfer to oven and bake until turkey is cooked through and a meatthermometer inserted into the thickest part of the thigh registers 165°, 11⁄2–2 hours. Garnish with radish slices for serving, if you like.
Click
here
for more from Elengorn Realtors
Subscribe to our newsletter and keep up-to-date with our latest properties and track the market trends.