Flying With Kids to Your Vacation Home
By DevSupport on May 12, 2016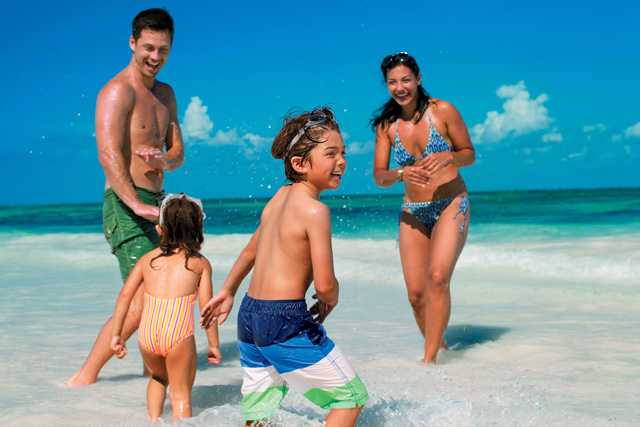 With the USD and CAN so strong against the peso, many families are finding that buying a vacation home in Puerto Vallarta is now well-within their reach. With direct flights from many major cities including Los Angeles, San Francisco, Denver, Phoenix, Houston, Dallas, Vancouver and Calgary, owing a vacation property in Puerto Vallarta is an easy and convenient choice. However, nobody wants to end a fun family vacation in Puerto Vallarta with cranky kids on the flight home. After a week or two of being off regular bedtime and eating schedules and the excitement of a vacation, the flight home is often where kids can lose it, making the flight difficult for them, for you and for the people sitting around you. But while you are waiting for your flight at the Puerto Vallarta International Airport (PVR) there are some things that you can do to help get your kids prepared for an easy flight home.
Don't board hungry! Hungry kids are cranky kids so make sure they get a good meal at the airport. There are several restaurants both before and after security with a variety of cuisines offered and for mom and dad, there are Starbucks locations both before and after security as well. Added bonus? Full tummies encourage napping on the plane
Don't count on digital entertainment to keep your kids occupied during the flight. Stop by one of the newsstands or gift shops in PVR to purchase coloring books, kid-friendly reading material or small games and puzzles. If the battery on the iPad dies or the inflight movie isn't suitable for children, you will be very happy that you have some back-up activities.
At lot of parents think that letting kids "burn off some energy" before boarding the plane will help kids be calm and quiet during the flight. Unfortunately, more often than not, letting kids run around the airport gets them hyped up and they can't turn it down once they get on the plane. While you're waiting at your gate to board, take advantage of the big windows overlooking the tarmac at PVR. Talk to your kids about what they are seeing: the baggage being loaded, planes being fueled, take-offs and landings, etc. As you talk about how airports work, it's also a great time to talk expectations for behavior on the airplane.
With a little preparedness at PVR your kids will be perfect passengers on the flight home, which is always a great ending to a family vacation in your own Mexican vacation property. Contact us for listings that will be your perfect piece of paradise to make your family memories.
Click here for more from Elengorn Realtors.
Subscribe to our newsletter and keep up-to-date with our latest properties and track the market trends.