A Taste of France in Puerto Vallarta
By DevSupport on July 26, 2013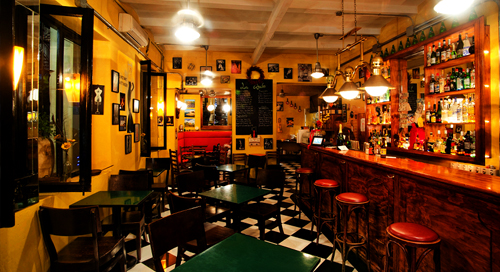 Puerto Vallarta's
culinary scene is one of the most varied and delicious in Mexico. From taco stands on
the streets of the city to gourmet experiences in one of the many high-end restaurants Vallarta has to offer,
visitors and residents can enjoy a great meal at any budget. Puerto Vallarta dining goes far beyond
just Mexican food and encompasses Japanese, Indian, Mediterranean, Italian,
German, Greek, Austrian and many other types of restaurants, including La
Cigale, a wonderful French style bistro in the heart of downtown.
Stepping into La
Cigale is like entering a little neighborhood bistro in Paris with its
cheerful yellow walls, checkerboard floor, long wooden bar and traditional
French music softly playing in the background.
Small bistro tables line the front of the restaurant with banquette
seating offered in the rear.
The menu is full of traditional French favorites including vol
au vent, beef bourguignon and an incredibly decadent foie gras terrine. And be sure to sample the amazing French
onion soup, the escargot beautifully served in garlic butter and the mussels
which are offered three ways: steamed
with white wine, in a white wine cream sauce or with tomato and basil.
So pay a visit to La
Cigale at #398 Hilalgo for a taste of Paris right here in beautiful Puerto Vallarta.
For more Sarah
Elengorn blogs, click here.
Subscribe to our newsletter and keep up-to-date with our latest properties and track the market trends.