Why Canadians Love Retirement in Mexico
By DevSupport on July 3, 2013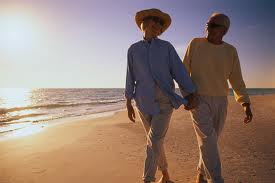 Well, let's all just admit it. Weather is one of the top reasons that
Canadians find Mexico such a dream
destination for retirement. In the Puerto
Vallarta and Banderas Bay area,
residents enjoy over 300 sunny days a year with an average daily temperature of
about 28 degrees that makes almost anyone want to escape from rainy or snowy
winters.
But there are so many reasons that Canadians snowbirds are flocking to Mexico, particularly the Banderas Bay region and here's just a
few:
1.
Accessibility: WestJet offers
year-round direct, non-stop flights from Calgary, Edmonton, Toronto and Vancouver
to Puerto Vallarta Airport, and Air Canada, CanJet, Sunwing, Enerjet, Thomas
Cook, WestJet and Air Transat add a whole host of seasonal
non-stop direct flights from Canada to Puerto Vallarta, adding service to cities like Abbotsford, Calgary,
Comox, Edmonton, Kelowna, Montreal, Ottawa Prince George, Regina, Saskatoon,
Toronto, Vancouver, Victoria and Winnipeg
2.
Health
Care: Private hospitals offer
medical, dental and cosmetic treatment with the same quality of care and
professional expertise and equipment found in Canada for a fraction of the
price. Even better, appointments with
general practitioners and specialists can usually be made same day.
3.
Culture: Not only are the Mexican people warm,
friendly and helpful, there is a huge community of Canadian expats and snowbirds living in Puerto Vallarta and around Banderas Bay, particularly in the popular
beach town, Bucerias, helping to
build social connections and a feeling of community.
4.
Cost of Living: The cost of living in Mexico is so much less than Canada, that most snowbirds here employ a housekeeper and eat out several times a
week and still find that the tropical lifestyle makes much less of an economic
dent that what they're used to at home.
Sound amazing?
Thousands of Canadians who now call Puerto
Vallarta and Banderas Bay home
already agree with you. Contact us at Sarah Elengorn Realty for more
information about perfect retirement properties in Puerto Vallarta to fit your
needs and budget.
For more Sarah Blogs, click here.
Subscribe to our newsletter and keep up-to-date with our latest properties and track the market trends.