Best Traditional Thanksgiving Dinners in Puerto Vallarta
By DevSupport on November 18, 2013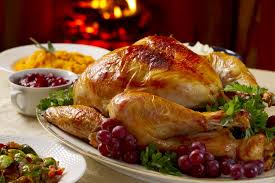 Just because you're lucky enough to be spending Thanksgiving
in Puerto Vallarta doesn't mean that you need to skip out on one of the best
meals of the year. There are some great
traditional turkey dinners with all the fixings being prepared at some of the
best restaurants around Puerto Vallarta.
For 235 pesos per person, enjoy a Thanksgiving dinner menu
from Daiquiri Dick's that includes pumpkin soup with apples and curry, turkey with stuffing, mashed potatoes, cranberry sauce, roasted
sweet potatoes and gravy. Finish up with
a gingered pecan tart or spiced pumpkin cheesecake. Or take advantage of their to-go turkey
dinners, 195 pesos for individual servings, turkey with trimmings for 10 -12
people for 1500 pesos or a whole pumpkin pie for 195 pesos. Call (322) 222-0566 by November 20th
to place to-go orders.
La Luna Restaurant, a local's favorite for dining and
fantastic cooking lessons, is doing their delicious Thanksgiving menu again
this year featuring traditional roasted turkey, apple bread stuffing, cranberry
sauce, mashed potatoes and gravy and your choice of pumpkin pie or apple tart
for just 265 pesos per person. La Luna
also boasts nice and affordable selection of house wines to enjoy along with
your meal and one of the most charming settings in Puerto Vallarta. To-go meals are also available. Call 223- 5612 for pre-orders and
reservations.
It's just not Thanksgiving without American football? Then popular Los Muertos Brewing Company, Puerto Vallarta's only craft brewery, is
the perfect place for you this year!
They'll be screening the game as well as serving up a delicious Thanksgiving
menu including turkey, mashed potatoes and gravy, sweet potatoes, cranberry
sauce, creamed spinach, corn, pumpkin pie and their very own specialty pumpkin
ale. All for just 195 pesos….all you can
eat! For reservations call (322)
222-0308.
Happy Thanksgiving!
Click here for more from Sarah Elengorn.
Subscribe to our newsletter and keep up-to-date with our latest properties and track the market trends.