DIning at Las Palomas Restaurant
By DevSupport on February 11, 2014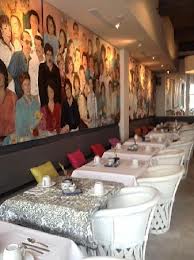 There are few restaurants more iconic in Puerto Vallarta
than Las Palomas, which after 34 years has relocated from its downtown Vallarta
spot to its new home in the tony Marina Vallarta.
Since 1979, Las
Palomas has been a culinary institution in the city, well-known for their great service and excellent
traditional Mexican food and breakfasts, both Mexican and American
style.
The new location, located in the Nima Bay Shops, is light
and airy, decorated mainly in white with colorful accents and artwork. They also have put a nice focus on local
artists, featuring live music on a regular basis and PalomArte every Thursday
evening, where a different regional artist will exhibit on their terrace.
The food focuses on fresh, regional seafood and traditional
Mexican favorites like Chicken in Mole, Chilies Rellanos, and Arrachera. Executive Chef, Lucia Benitez, has credentials
which include over 9 years of study in Spain and formal training at Le Cordon
Bleu Mexico. She is also well-respected cooking instructor who leads
comprehensive workshops focused on health as a lifestyle in Puerto Vallarta.
The next time you're in Marina Vallarta, don't miss the
chance to stop at Las Palomas and see why they have a more than 30 year history
in Puerto Vallarta.
Click here to read more from Sarah Elengorn.
Subscribe to our newsletter and keep up-to-date with our latest properties and track the market trends.