Private Schools around the Bay
By DevSupport on February 28, 2014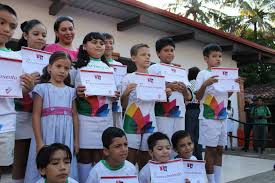 It is inscription season, the time of year when parents are
securing their children's spots in one of the many excellent private schools around
the Banderas Bay area. Most foreign families
living in the Puerto Vallarta area have heard of the American School, but it is
far from the only choice for excellent, bilingual education.
As a mother, I understand the importance of finding the
right school for your child. So I have
polled many other mothers around the Puerto Vallarta area and come up with a
listing of some of the most popular private school choices based on quality of
education, extra-curricular activities and parent-teacher communication.
1)
Ameyali:
located in Los Sauces, this school has been offering a holistic approach
to education including community values, environmental responsibility and
fostering creativity in addition to academia for over 20 years.
2)
Anglo American:
in Los Tules, located behind Plaza Caracol, this is arguably the most
beautiful campus in Puerto Vallarta and offers comprehensive education and extracurricular
activities from K to 12.
3)
Campo Verde:
Located in Boca de Tomates, halfway between the Puerto Vallarta Marina
and Nuevo Vallarta, this sprawling campus offers a challenging curriculum and
fabulous amenities including an indoor swimming pool.
Whichever school you choose for your children, you can be
assured that is very easy to secure education that is equal to and in many ways
better than the upper North American systems.
Most schools offer discounted registration rates now through June.
Click here to read more from Sarah Elengorn.
Subscribe to our newsletter and keep up-to-date with our latest properties and track the market trends.