Getting Your Starbucks Fix in Puerto Vallarta
By DevSupport on March 3, 2014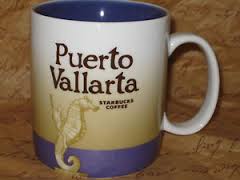 Vanilla latte? Non-fat
cappuccino? Half-caf, double shot, extra
hot, half sweet, dry, caramel macchiato?
We'll roll our eyes at you a little for that last one, but generally, we
totally understand a Starbucks craving.
And over the last year, we've seen our little green mermaid friend from
Seattle popping up all over the Puerto Vallarta area.
·
Puerto Vallarta Airport: second level, just before security.
·
Galerias Shopping Plaza: second level before the food court.
·
Las Juntas:
on the highway between Puerto Vallarta and Nuevo Vallarta. Offers drive-thru service.
·
Puerto Vallarta Malecon: located across from the iconic Hotel Rosarita
just before the north side Malecon entrance.
·
Plaza Las Armas:
just off the Malecon on the south side of the plaza.
·
Paradise Plaza:
located on the exterior of this Nuevo Vallarta plaza.
All Starbucks in the Puerto Vallarta area offer free Wi-Fi
and staff that can help you in English or Spanish. If you have a Canadian or American Starbucks
card, they will work here in Mexico. And
you'll find most of your favorite goodies in the bakery cabinet plus a few
Mexico specific treats that are delicious and worth a try.
Keep in mind that there are excellent coffee shops all over
Banderas Bay to support local businesses as well, but for those times when only
a Starbucks will do, you'll find that green and white cup (probably with your
name misspelt on it) waiting for you.
Click here for more from Sarah Elengorn
Subscribe to our newsletter and keep up-to-date with our latest properties and track the market trends.