Making Micheladas
By DevSupport on September 9, 2014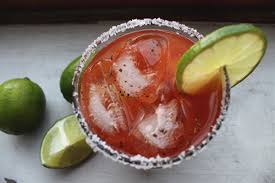 A michelada is a
Mexican cerveza prepared with beer, lime juice, and assorted sauces, spices,
and peppers and it is the ultimate refresher on a hot day. We have a lot of favorite beach bars and
cantinas that serve up great micheladas, but this is our favorite at home
recipe that we think can't be beat! Give
it a try and let us know what you think.
INGREDIENTS
Salt, for
rimming the glasses
1/4 cup freshly
squeezed lime juice (from about 2 medium limes), rinds reserved
Ice
1 1/2 cups light
Mexican beer, such as Corona
2 teaspoons
Worcestershire sauce
2 teaspoons hot
sauce, such as Tabasco
1 teaspoon Maggi
or soy sauce
Freshly ground
black pepper, for garnish
INSTRUCTIONS
Place enough
salt in a wide, shallow dish to cover the bottom. Rub the rims of two glasses
with the reserved lime rinds and dip the glasses into the salt. Fill the
glasses with ice and set aside.
Place the lime
juice, beer, Worcestershire sauce, hot sauce, and Maggi or soy sauce in a
pitcher and mix to combine. Pour into the prepared glasses, top with a few
grinds of pepper, and serve.
Click here from
more from Sarah Elengorn Real Estate.
Subscribe to our newsletter and keep up-to-date with our latest properties and track the market trends.