Pilgrimages in Puerto Vallarta
By DevSupport on November 20, 2014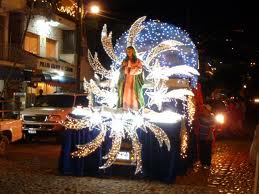 December is one of the most special times in Puerto Vallarta, starting with the traditional pilgrimages to the Virgin of Guadalupe, which occur every year from December 1st to 12th.
Each afternoon and into the evening, a different guild or group will make their way through the streets of downtown Puerto Vallarta, towards the Our Lady of Guadalupe church, carrying signs or on floats, often wearing colorful costumes or matching outfits and singing along the way. There will also often be dancers, firecrackers or other performances happening along the route.
And, of course, the food! It is a great time to experience Mexican street food at its best, with vendors lining the parade route and congregating in the Plaza las Armas, selling traditional favorites like pozole, tamales, tacos, corn, snacks and sweets.
It's a wonderful start to the beginning of the holiday season and a beautiful part of the local culture that many foreign residents and visitors fall in love with and look forward to every year. Be sure to make your own pilgrimage to downtown Puerto Vallarta to experience this special experience for yourself.
Click here from more Puerto Vallarta lifestyle from Sarah Elengorn Real Estate.
Subscribe to our newsletter and keep up-to-date with our latest properties and track the market trends.