Ring in the New Year, Mexican Style.
By DevSupport on December 29, 2014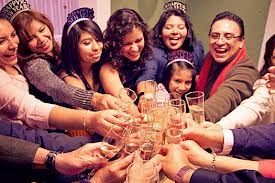 If you are celebrating New Year's Eve 2015 in your Puerto Vallarta house or condo, why not introduce some Mexican traditions into your party? Here are some of our favorites:
– At midnight, eat 12 grapes, each representing a month for 2015. A sweet grape means you'll have a good month and a sour grape, well, not so much.
– Throw 12 coins onto your doorstep and then sweep them in to bring wealth and prosperity to your Puerto Vallarta home.
– Take a stroll around your neighborhood with an empty suitcase at midnight to bring travel into your 2015.
– Wear the right underwear: red for love, yellow for happiness, green for good health, pink for friendship and white for peace.
– Toss a bucket of water out of your window at midnight to bring a clean start to the New Year.
From all of us at Elengorn Realtors, we wish you the very best in 2015. Happy New Year!
Click here for more from Sarah Elengorn.
Subscribe to our newsletter and keep up-to-date with our latest properties and track the market trends.