The Other Spirit of Mexico: Kahlua
By DevSupport on December 26, 2014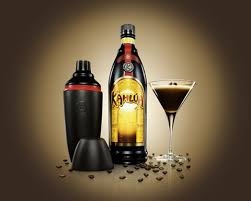 With plans being made for New Year's Eve 2015 parties, many homes in Puerto Vallarta will be stocking up their bar with spirits for cocktails for their guests. Of course, tequila is a popular choice, but Kahlua, Mexico's other national spirit, is a fun, festive option also.
This rum-based, coffee flavored liqueur can be enjoyed on its own, in milk or cream, made into numerous cocktails or as a flavoring ingredient in desserts.
It was first produced by Pedro Domecq in the state of Veracruz, Mexico, in 1936. Its name is taken from the Nahuatl language spoken by the indigenous Acolhua people of Veracruz meaning "House of the Acolhua People".
Truly a Mexican product, Kahlua is made with the premium Arabica coffee beans grown in Veracruz and sugarcane. As it grew in popularity, Kahlua added other flavors to its brand including Hazelnut, Mocha, Peppermint, French Vanilla and Kahlua Especial which packs a 35% alcohol content punch.
It's a lengthy 7 year process of growing, harvesting, drying and aging the coffee beans and sugarcane before the distilling process of Kahlua begins. The coffee is roasted in micro-lots and then ground to extract the flavor. It is then combined with the sugarcane, vanilla and caramel and rested for eight weeks before being filtered and bottled.
Ready to try some Kahlua? You can find it at any liquor retailer in Puerto Vallarta or Riviera Nayarit.
Click here for more from Sarah Elengorn.
Subscribe to our newsletter and keep up-to-date with our latest properties and track the market trends.