Visiting Las Animas
By DevSupport on August 18, 2015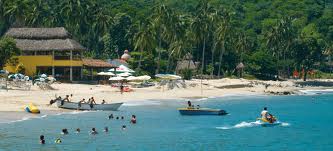 A trip to Las Animas is a superb way to spend your Sunday or really any day of the week when you would like to relax. By car or bus, you head south along Highway 200, viewing the green mountains and curvy roads on the way, to arrive at Boca de Tomatlan where you can water taxi from there to Las Animas.
The trip takes only about 10 minutes by water taxi to the pier at Las Animas and it is reliable, cheap and fast. Once on the beach, there are several choices of restaurants offering delicious seafood, Mexican food and cold drinks. You tell the water taxi captain when you want to come home and then look out for the water taxis as they arrive on the beach to take you back. It is an hourly occurrence and they do work together as a group, so there is no worry about missing your boat or being left behind.
The south beaches are beautiful and perfect for swimming, snorkeling, exploring or just lazing about with after a good meal. They are a great part of the Puerto Vallarta lifestyle.
Click here to learn more about Puerto Vallarta from Elengorn Realtors.
Subscribe to our newsletter and keep up-to-date with our latest properties and track the market trends.