Fluvial Vallarta
By DevSupport on September 8, 2015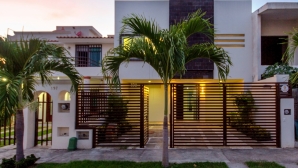 Located directly to the west of the Puerto Vallarta Hotel Zone you will find Fluvial Vallarta, a large residential and light commercial development that is bringing smart urban planning and green space conservation to Puerto Vallarta.
Offering paved and flat streets, underground wiring, and controlled building codes, Fluvial Vallarta is a Mexican contemporary neighborhood. Beautifully landscaped parks, running trails and proximity to major shopping areas as well as some of the best private schools and hospitals in Puerto Vallarta are just some of the reasons that Fluvial has become a popular choice for professionals and families.
Intelligent community planning means that Fluvial has all the services that residents find desirable like restaurants, small retailers, pharmacies and services but that nightclub and industrial permits will not be granted in the neighborhood. The one large retailer in the area, Costco, is popular with residents from all over Banderas Bay and has a well-landscaped parking area, shaded by large trees and flowering plants, in keeping with Fluvial Vallarta design.
With an ideal location halfway between the Vallarta Marina district and the charming downtown and Old Town of Puerto Vallarta, public beach access less than one kilometer away and direct access to the city's two major thoroughfares, Francisco Villa and Francisco Medina avenues, it's easy to understand why the area is so popular with local doctors, lawyers and entrepreneurs as well as foreign residents.
Click here to read more from Elengorn Realtors or to see the home shown in the photo above.
Subscribe to our newsletter and keep up-to-date with our latest properties and track the market trends.