Pan de Muertos
By DevSupport on October 14, 2015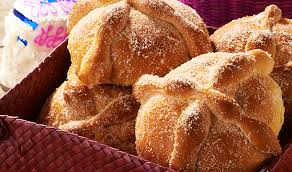 Pan de Muerto is an important part of the Dia de los Muertos, or Day of the Dead, tradition in Puerto Vallarta and throughout Mexico. Made with flour, eggs, milk, butter and yeast (and often flavored with anise seed) it is baked into round loaves with strips of dough layered on top that resemble the bones of the dead. A glaze of melted butter and orange zest is then brushed on top, followed by a generous sprinkling of sugar.
Pan de Muerto is eaten at parties, festivals, and graveyards, when the living gather to remember, honor and toast their loved ones who have passed on. Pan de Muerto is also placed on the altars which are built as a tribute to the dead and often decorated with favorite foods and drinks for the deceased to enjoy after their long journey to "the other side".
You can find Pan de Muerto in Puerto Vallarta grocery stores like Soriana, Walmart and Mega or in bakeries and coffee shops around the city. Try some and enjoy a delicious and sweet piece of one of Mexico's most beloved tradition.
Click here for more from Elengorn Realtors.
Subscribe to our newsletter and keep up-to-date with our latest properties and track the market trends.