Restaurant Tips for Families in Puerto Vallarta
By DevSupport on May 1, 2016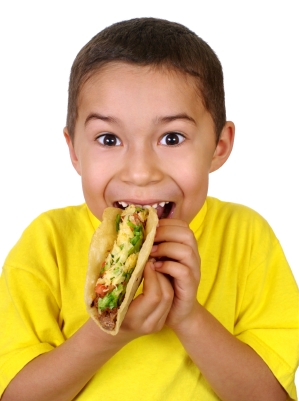 Puerto Vallarta isn't just a vacation home or retirement destination. More and more young families are choosing to relocate to Mexico and raise their children here. But if mealtimes can be a battle in your own home, the idea of trying to feed picky eaters at a restaurant with a different kind of cuisine than what they are used to, can be downright stressful for parents. Luckily, Mexico is a very family-oriented country and servers and chefs will go out of their way to help parents find things for even the fussiest eater in the family. Furthermore, any Mexican restaurant kitchen is going to be stocked with an abundance of fresh, healthy basics that will mean your kids will eat a healthy meal. Here are some of our best tips for families eating out in Puerto Vallarta.
The quesadilla is your best friend. This "Mexican grilled cheese sandwich" is always available at every restaurant. Even if it's not on the menu, they will gladly make on for you.
If you're eating in an Italian restaurant, don't chance that pasta sauce won't have something "icky" in it. Ask the kitchen to prepare plain pasta tossed in butter and parmesan cheese for a meal that kids will actually eat and that is much less costly.
Mexican cuisine relies heavily on fresh fruits and vegetables and kid-friendly picks like bananas, pineapples, oranges, carrots, cucumber and celery will be provided on a side plate if you just ask.
Fish tacos in Puerto Vallarta are amazing but the coleslaw and tortilla can be "funny" for lots of picky eaters. Order "Baja" style fish tacos without the taco and you're left with kid-friendly fish fingers.
The important thing to remember when eating out in restaurants in Puerto Vallarta is that most restaurants here are very family-friendly and servers will go out of their way to cater to little ones. With a politely-worded request and a smile, most families will find that restaurant staff will do their best to make sure that a delicious and nutritious meal is provided to even the fussiest family member.
Subscribe to our newsletter and keep up-to-date with our latest properties and track the market trends.