5 HOTEL-BOUTIQUES IN PUERTO VALLARTA to fall in love
By DevSupport on June 6, 2019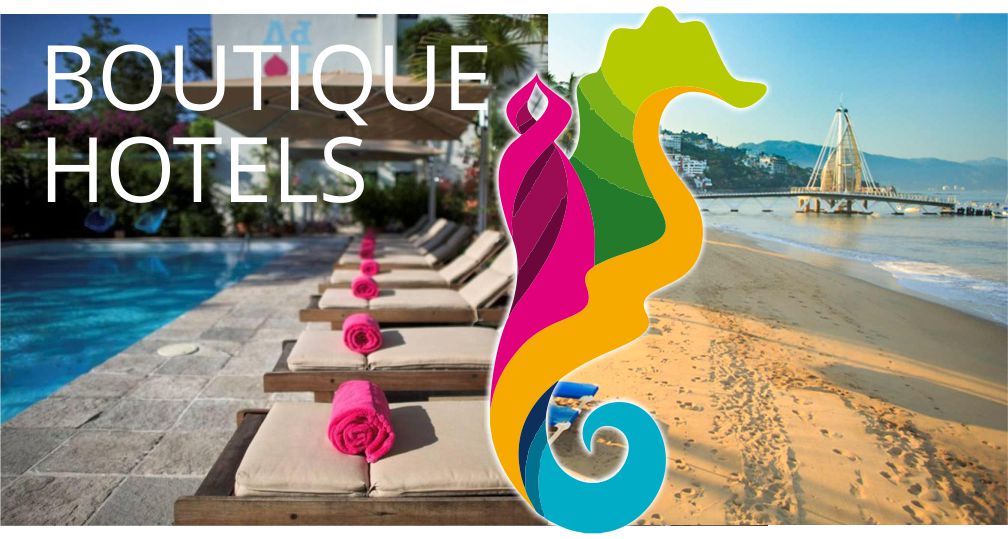 Puerto Vallarta has exclusive boutique hotels that offer more personalized services and facilities. Usually, this lodging option has a theme or distinctive style, such as smaller but comfortable spaces with exclusive designs that promote the individuality.
Here are 5 enchanting boutique hotels that Puerto Vallarta has for you:
In the heart of Vallarta´s Old Town, surrounded by a relaxing environment, on the bank of Cuale River, you will find a fantasy place: Rivera del Río Hotel Boutique, cataloged by the interiors designer Billy Baldwin as "a dream house".
Riviera del Río keeps an old-fashioned style with Victorian accents and an exquisite decor, full of antiques that evoke a classic European style with a few Mexican touches. It is comprised of 4 suites and 4 rooms, named after colors and family members of the founder María "Silver" Cortez. Most of the suites feature a dining room and kitchen. Among the amenities what stands the most is the ample terrace with pool and hot tub, ideal to enjoy the magnificent view of Puerto Vallarta.
Garlands del Río Boutique Hotel
Some blocks to the north of Riviera del Río (its bother hotel) you will find a boutique hotel with some Mexican features that include tiles in the pool, wood and quarry ornaments that decorate the entrance.
Garlands del Río keeps a Victorian style in all rooms and offers a penthouse as well as 10 luxury rooms with different colors and themes, whose names refer to known personalities and royal titles. All feature a small living room and balconies. You can freshen yourself, at the bar which is right next to the pool.
This hotel is located in Marina Vallarta, one of the most exclusive residential areas of the destination, it is a couple of minutes away from the airport and the beach. Thanks to its structure and location, this place can be your perfect scape of the routine, because at the entrance you will find a place full of relaxation thanks to its bohemian chic style.
This is one of the few boutique hotels that merge the bohemian style with the most representative elements of the Mexican culture. Its 3 suites have a minimalist design, generating peace and calm with a colorful touch, and without losing the sense of order. As amenities you will find a restaurant with bar close to the pool and a hammock area, besides it offers activities such as yoga, among some other services.
Located in the heart of Puerto Vallarta, to the north of the emblematic Our Lady of Guadalupe Church, you will find a place that will transport you to colonial Mexico.
From Our Lady of Guadalupe Church, just drive a few miles of cobblestone streets to arrive to Hacienda San Angel. There, its 12 suites will charm you, with a fusion between colonial Mexico and European elements, offering panoramic views to different areas of Puerto Vallarta. These rooms had been baptized with angels and saints names, and words that evoke the celestial grace. The facilities feature a pool, a patio and in each room you will find a rustic and comfortable living room, as well as terraces. And for lunch or dinner you can visit the on site restaurant: Hacienda San Ángel Gourmet.
Thanks to its rustic design, resembling the looks of an old Mexican hacienda, without loosing the distinctive elegance of boutique hotel, Hacienda San Angel was recognized with a World Travel Award in the category of Mexico's Leading Hotel Boutique en 2008.
Perhaps this is one of the most emblematic boutique hotels of the destination. In the past, this place was Elizabeth Taylor and Richard Burton's home, stars of the love story that brought fame to Puerto Vallarta during the 60's.
Located a few blocks the north of the Malecon, this boutique hotel combines the Hollywood glamour with antiques and colonial elements, as well as Asian ornaments in some of its nine suites, named after movies, characters and even the actors. Among the facilities you can find The Iguana restaurant, a pool and various terraces that will let you enjoy a panoramic view of Puerto Vallarta. In fact, you can even walk trough the "Bridge of Love" where the famous couple used to meet.
If you are planning your vacation or even if you want to pamper yourself, we invite you to consider these lodging options that will definitely surprise you.
Thanks to Vallarta Life Styles for sharing the post: https://vallartalifestyles.com/5-boutique-hotels-to-fall-in-love?utm_source=VLPG+Mailing+List&utm_campaign=67388023ae-VALLARTA_LIFESTYLES_RSS_EMAIL_CAMPAIGN_2017&utm_medium=email&utm_term=0_c1d35ce28d-67388023ae-47466089
Subscribe to our newsletter and keep up-to-date with our latest properties and track the market trends.